Franklin RX Pharmacy will help you organize your medications for ease of intake and storage.
Pharmacy Special Packaging Services:
Travel Packing
Child-Proof Safety Caps
Prefilled Syringes (Injectable Medication)
Weekly Caddies
Grouped Medications (Pillow Pack)
Individual Packaging
Cold Packing (For medication that needs refrigeration)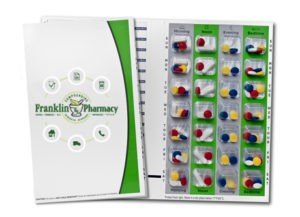 Please speak to one of our pharmacist to explore your packaging options for your medications.
For more information or to request for assistance, please call us at: (516) 292-0222

Franklin Rx Pharmacy is your local neighborhood drugstore ready to serve your pharmaceutical needs. We invite you to shop at our pharmacy that is conveniently located for pick-up of prescriptions or for your health care supply needs.
Franklin Rx Pharmacy is a private and locally-owned pharmacy that will handle all your individual pharmaceutical and surgical supply needs with knowledge, safety, and care. Pharmacy 11550, Specialty Pharmacy Hempstead, Pharmacy Hempstead NY, Surgical Pharmacy, west hempstead pharmacy.